Cleanroom Cleaning Services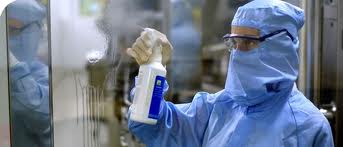 QSI was founded in 2001 and now offers full-service cleanroom facilities cleaning for various industries such as pharmaceutical, medical device, semiconductor, electronics, aerospace, bio-technology, food, cosmetic, nuclear, auto and nano-chip sectors nationwide.
QSI develops specialized systems, procedures and cleanroom-focused programs that comply with cGMP FDA and ISO standards. These systems improve quality while allowing the customer significant savings. QSI can offer worry free cleaning while reducing operational costs!
QSI provides a program tailored to your facility and product and process needs. QSI can provide value added support to the development and maintenance of your cleaning programs. Benefits and features include:
SOP Development and Maintenance
Cleanroom Evaluation
Personnel and Cleaning Workflow Guidance
Periodic Facilities and Personnel Inspection
Disinfecting




cGMP Cleaning
Build-Clean Cleaning
Super Cleans
Construction Cleans
Validation Cleaning



We understand the organisms and microbes that may be present in a controlled environment and the proper use of biocides, disinfectants, and sporicidal agents for their control and elimination. People cross-contaminate environments as well, and we teach you proper clean room behavior and gowning and gloving protocols that will protect your environment. Our decontamination expertise ranges from micro-cleaning of Class 1 (M 1.5) to Class 100,000 (M 6.5) environments, with both routine and periodic cleaning services. We can also conduct specialized cleaning required in data centers and raised floor environments, post-construction cleaning, disaster decontamination, and one-time super cleaning according to customer specifications.
You never have to compromise the quality of your research, the sterility of your instruments or the integrity of your product line. There is no re-work when you engage with Quality Systems Integration (QSI). We do the job right, the first time, to your exact specifications. We assure your peace of mind and your company's regulatory compliance.
QSI uses high-grade clinically-tested clean room supplies. Offering precision clean room services would not be possible without paying attention to every detail. Long-standing relationships with the most trusted Cleanroom supply companies allows us to meet all mirco-cleaning requirements for
your cleanroom. Advantages that QSI supplies it's customers include:
Understand Cleanrooms and
Clean Manufacturing
Have Vast Experience, Expertise and Proven Track Record of Outstanding Service to Our Customers'
Critical Environments
Focus on Customer Product and Process Protection
Play a Vital Role on Customer
Quality Team's
Practice the Strictest Screening and Hiring Standards
Our Cleanroom Technicians are highly trained professionals that understand your sensitive environments. Each Cleanroom Technician has been trained in the very latest cleaning techniques and are amongst the most highly trained in the industry. QSI utilizes a variety of specialized equipment and cleaning agents to support these efforts.
Documentation of the cleaning process is of utmost importance to us. We work with you to establish a cleaning documentation system that will seamlessly translate into the companies Quality Systems and regulatory requirements.